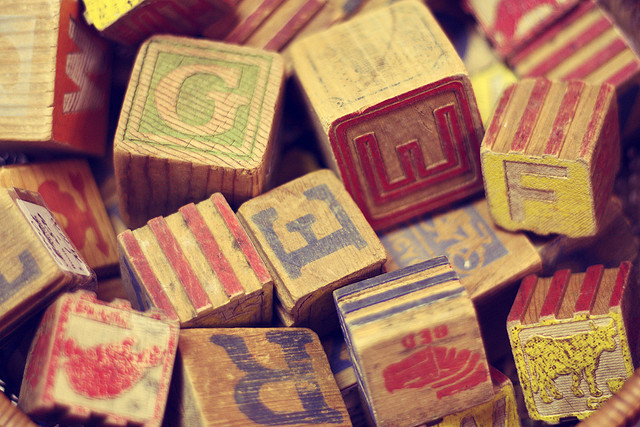 Note: After working on a few documents recently that called for using Building Blocks in Word, I knew it was time to run this post again. I really don't think I can make it through a single week without needing this feature!
Several versions ago, Microsoft introduced a new feature called Building Blocks. Using Building Blocks, you can create cover pages, headers, footers, tables, and much more. Seven years later, many people do not know about and even fewer use this amazing tool.
When you design a building block, you are crafting a reusable item. You just invest a little time on the front end to be able to recycle the element you produce multiple times. It really pays for the creation time in powerful ways over and over again when you use your building block part in other new documents that you start.
Creating a Header – "Confidential"
Here is a quick example of how to add a word like "Confidential" into a Header and then save that as a Building Block. For our purposes in this post, we can just start a new, blank document. Then, click the Insert tab and the Header button. See Figure 1.

Figure 1
Choose Blank from the gallery. See Figure 2.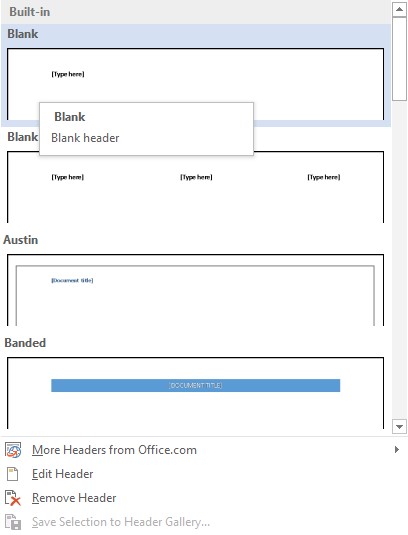 Figure 2
Once you are in the header, type "Confidential" and format it any way you like. You can press Ctrl-E to center it, Ctrl-B to bold it, and Ctrl-I to italicize it. You can adjust the size and color, too.
With the text cursor in the header, press Ctrl-A to select the entire header. Go back to the Insert tab, click Header, and then, near the bottom of the list, click Save Selection to Header Gallery. See Figure 3.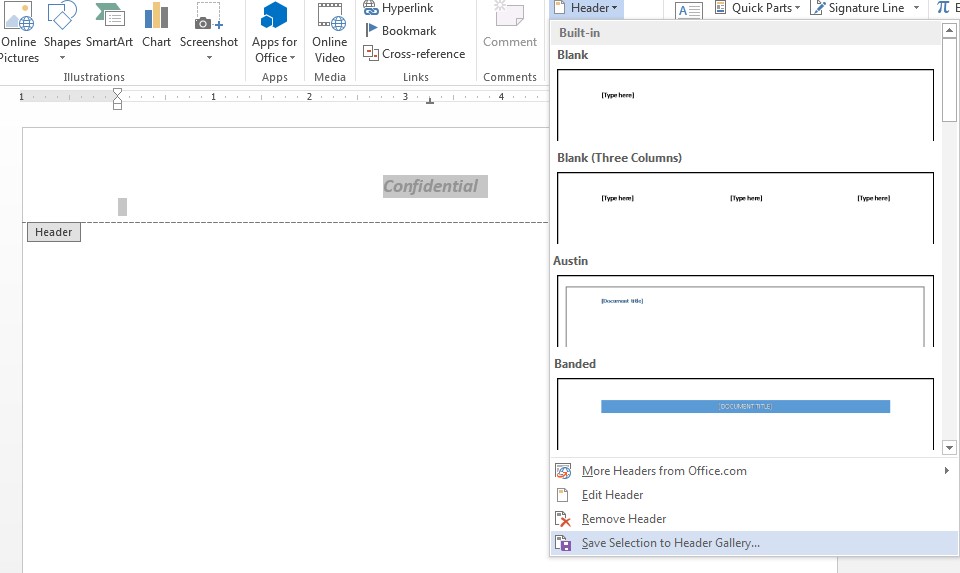 Figure 3
A new window will appear called Create New Building Block. See Figure 4. In that dialog box, give your header a name. For our example, I am giving it the name "Confidential". When you are done with the name, click OK to save it as a Building Block.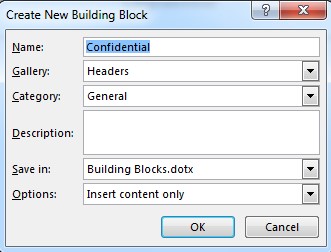 Figure 4
To insert this header in a new document, click on the Insert tab and click Header. Scroll down through the gallery and click on the name you gave to your header. I found mine in the alphabetical list under the name "Confidential".
Built-In Building Blocks
There are quite a few built-in items that you can access through the Building blocks organizer. To see the complete list, click on the Insert tab and then on the Quick Parts button. From the gallery that drops down, choose Building Blocks Organizer. See Figure 5.
Figure 5
In the window that appears, you will be able to see the entire list of pre-made Building blocks. Since the creation of Building blocks in the Office 2007 version, this list has increased. See Figure 6.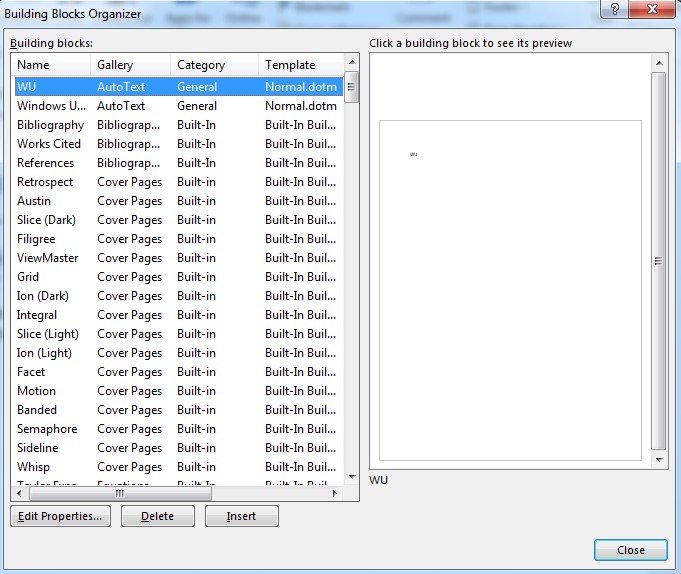 Figure 6
You can choose to sort the list by any of the column headings: Name, Gallery, Category, etc. The default sort is by Gallery, which are groupings like Cover Pages, Headers, Footers, Equations, Tables, Textboxes, Watermarks, etc.
Creating a Watermark – Company Name
One of the other building blocks that I use are the watermarks. Whenever I need to work on a company related document I put the watermark of my company name, "Versitas", on it. That way, I am reminded that it is not in final form yet and that it is the property of my company if it is shared outside of my internal team. This also might work well for contracts and other policy files.
To create this watermark, we will start with a new document. Double-check to make sure you are in Print Layout view. Click the View tab and then choose Print Layout. Most likely you will already be in that view, but it makes it easier to create the watermark in that view.
Note: There are some great watermarks already created for you under the Watermark button. Look through those first. You may find something to suit your needs without needing to create your own custom building block.
To get to the watermark, click the Design tab and choose the Watermark button. Choose Custom Watermark from the lower portion of the gallery that drops down. See Figure 7.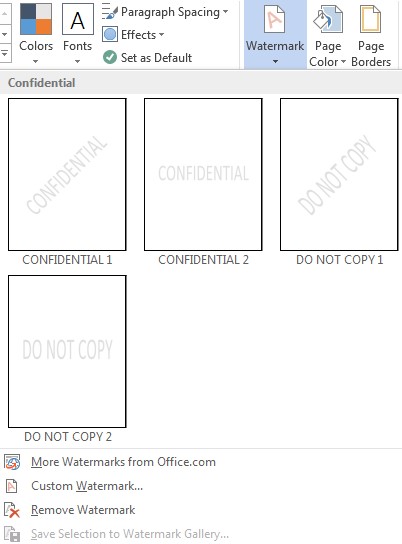 Figure 7
You will be able to make choices in the watermark dialog box. I chose the text watermark and then typed in the text "Versitas". You can change the font, the size, color, layout, and transparency. When you are done, click the OK button. See Figure 8.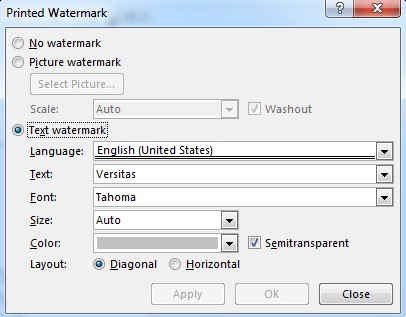 Figure 8
Note: If desired, you could make a watermark from a picture. I have seen several great watermarks made from company logos or even nice clipart/photographs.
I often use a watermark when I am working with a team on a document or report. See Figure 9 for my watermark.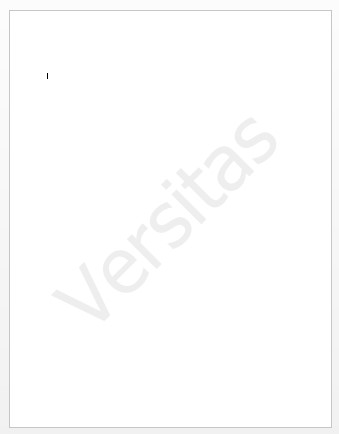 Figure 9
In order to save the watermark as a building block, you have to know how to get to the watermark. In
Word, the watermark is associated with the header. I would never have guessed it to be there, but that is where you need to go to select it. So, double-click on the header area of your document. Then, press Ctrl-A to select the entire header (which will include the watermark). Figure 10 shows my document with the header and watermark selected.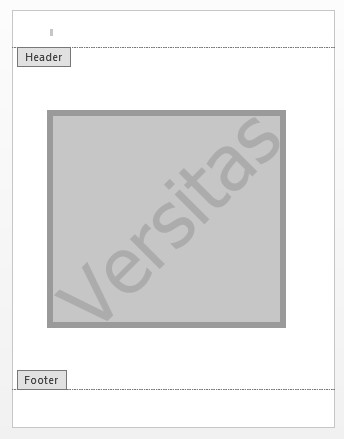 Figure 10
Now that the watermark is highlighted, you can click on the Design tab and click on the Watermark button. From the gallery, select "Save Selection to Watermark Gallery". See Figure 11.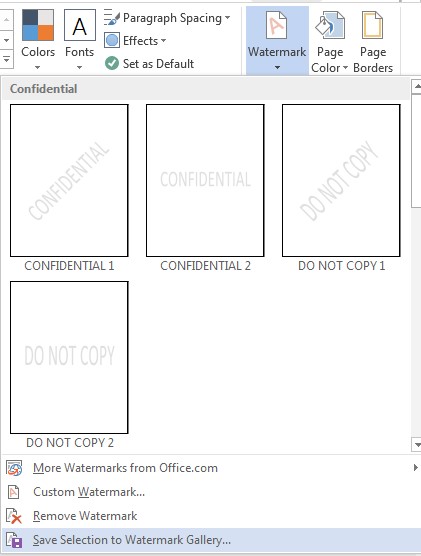 Figure 11
The Create New Building Block dialog box will appear. See Figure 12. You can enter a name for your watermark building block. I used "Versitas" as the name for our example.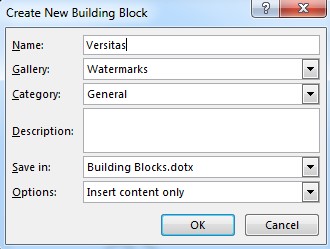 Figure 12
Anytime you want to use your new custom watermark, you can go to the Design tab and click on the Watermark button. In the drop-down gallery, scroll down to the General group and you will find your custom watermark. See Figure 13.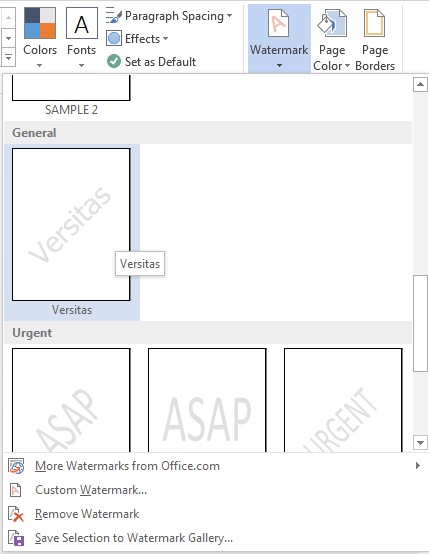 Figure 13
I hope you enjoy using these great built-in and customizable tools as much as I do!
Image credit: https://www.flickr.com/photos/kmtucker/