Just the other day, I had a frantic phone call from a friend. She uses me as her help desk and troubleshooter in many software application questions. Her question was about her Word document recovery when her computer turned off during one of our storms.
The computer shutdown when the electricity turned off. She had not turned it back on because of the storm. She wanted to know if she could recover the document that she was working on at the moment the computer turned off. She had not saved it on her hard drive yet and was concerned that she would need to completely re-create it.
Many of us have encountered the same situation as my friend. If you are working in Word and experience an interruption in your power, can you salvage at least some of what you were working on? Or, you might have had an error occur and had the computer shut off before you had saved the file that you were working on.
To try to recover a document, there are several factors to consider. If you have saved it on your drive, you could probably recover at least up through the last time you had hit save. The motto I live by is, "Save early and save often!" I didn't tell my friend that, though. It would only have frustrated her since she had not thought to save the document. Hitting the CTRL+S key frequently has saved me several times!
SEARCH
If she had saved the document at any point on her hard drive or USB drive, she could start by doing a search for it. In Windows 7, you can click on the Start button and click in the Search programs and files box. Enter the name of the file and hit Enter. See Figure 1.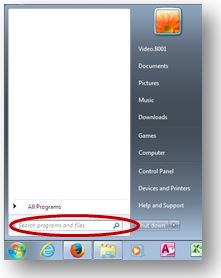 If you find the file in the list, then you can double-click the name of the file to open it. If you cannot find it this way, you can try another way by looking for a Word backup file.
WORD BACKUP FILE
The next thing I would tell my friend to try would be to see if there is a backup copy of the Word file. First of all, she would need to see if the "Always create backup copy" option was selected in the Word options. The option can be found by clicking on the File tab in Word, choosing "Advanced" on the left and then looking under the "Save" section. See Figure 2.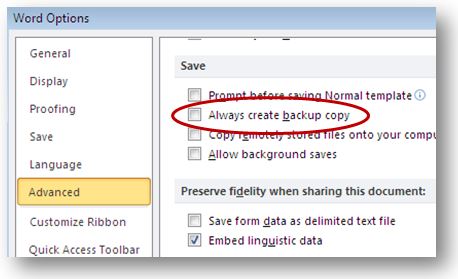 If "Always create a backup copy" is checked, then you can do a search for *.wbk which looks for backup Word files. If you find that file, then you can go to Word, click the File tab, choose Open. Change the file type to "All Files" and navigate to your backup Word file. If the "Always create a backup copy" is not checked, you might want to go ahead and enable it for future use.
WORD AUTORECOVER
If the searching for a backup copy does not work, another option is to try the AutoRecover feature in Word. When you are working in Word (and if the feature has been enabled), after a certain amount of time (this can be changed in the options but is often set to 10 minutes), Word will create an AutoRecover file. If you haven't been working that long, then you will not have an AutoRecover file to recover. Also, if you have closed or quit the file manually, then the AutoRecover file is gone.
Each time Word opens, it searches for AutoRecover files. If it finds anything to recover, it will show up in the Document Recovery task pane. This will only work if the AutoRecover feature was enabled. To check and see if it is enabled, go to the Word options and click on "Save". Look to see if the AutoRecover feature is enabled. While you are there, you will want to note the AutoRecover file location. See Figure 3.
If the feature has been enabled, then you can try starting up Word again to see if you have an AutoRecover file. Before starting Word, you will want to go into the Task Manager to stop all instances of Microsoft Word that are running. Right-click the taskbar at the bottom of the screen and choose Task Manager. Click on the Processes tab and click on "Winword.exe" if you see it present. After clicking on the execute file for Word, you will want to click on "End Process". Repeat this for any occurrences of the Winword.exe process.
Now you are ready to open Word again. It will automatically search for any AutoRecover files. If they are present, the Document Recovery task pane will open. You will see the document name followed by "Recovered". You can open the file and continue working.
You can also click on the File tab and choose Recent to choose "Recover Unsaved Documents".  If you cannot find the AutoRecover file, then you can go to the AutoRecover file location that was in the Word options (under the "Save" category). When you go to that location, you will be searching for files with .asd file type.
Thankfully, my friend did have AutoRecover enabled and was able to recover part of her document. If you have not had any problems like this, it is worth your time to check your options and enable your backup copy and AutoRecover features. You never know when you might encounter this same issue and wish you had setup those two items.
If you would like more information, check out another blog post about recovering files.
Image Credit: https://www.flickr.com/photos/wonderlane/