You put so much time into creating the perfect presentation to show your colleagues. You would really like to have the presentation in a video format. You are in luck! PowerPoint video can do that!
PowerPoint 2013 and 2016 versions can turn your file into an MPEG-4 video (.mp4) or Windows Media Video (.wmv). The video will include your narrations, PowerPoint laser pointer movements, animations, transitions, and your timings. Recipients of the video can now play the video on many devices. It can also be easily viewed from a web site.
Create the PowerPoint Video
With your file open, make sure you have saved the latest version. Then, click on the File tab and choose Export on the left. From there, choose Create a Video. See Figure 1.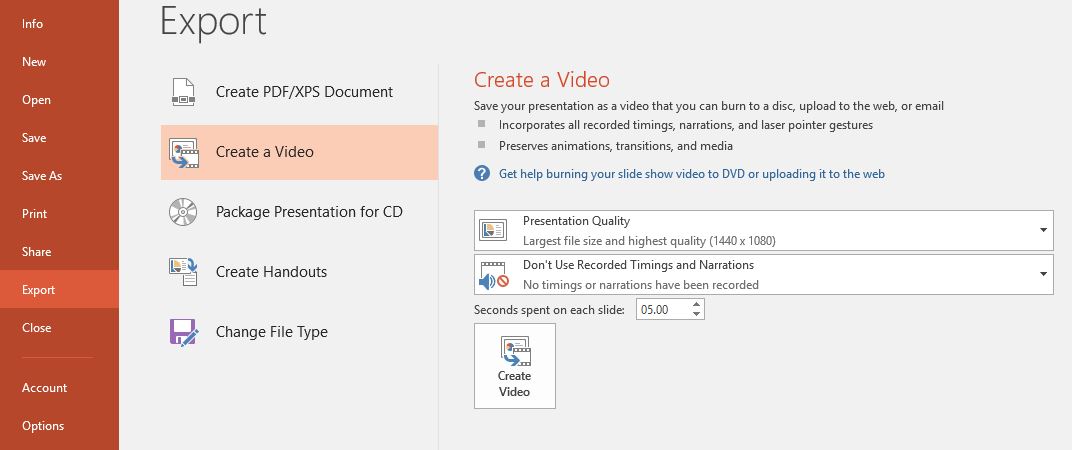 Figure 1
You have several options for the video quality. Microsoft lists these three options in regards to resolution and file size (Figure 2):

Figure 2
Use Timings and Narration
After choosing the presentation quality, you can select whether to include any timings or recordings in your presentation. When you click the down arrow, there are options to record timing and narrations or to preview timings and narrations. See Figure 3.

Figure 3
Underneath the drop-down for using recordings is a spin box to select how many seconds will be spent on each slide. After making that choice, click the Create Video button below it. See Figure 4.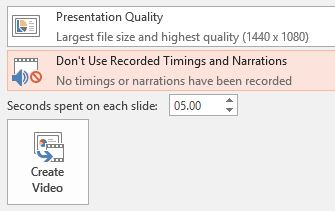 Figure 4
Video Type Options (MPEG-4 and WMV)
On the Save As dialog box, you can click the Save as type box and choose either MPEG-4 or Windows Media Video. See Figure 5. Enter a file name, navigate to a location, and then click the Save button.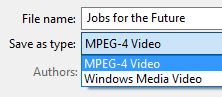 Figure 5
Run the Video Presentation
Just go to the location where you saved the video file and double-click on it to run it. You can then have everything contained in one file that can be emailed, viewed on the Internet, on mobile devices, etc. without needing the PowerPoint or even a viewer.
Share the Video Presentation
Microsoft has a secure video-sharing site called Stream. Companies that have an organization subscription to Office 365 have access to it. Users can upload, view, and share videos to other people in the organization.
For those with access to Stream, just click on the File tab and choose Export. From there, click on Publish to Microsoft Stream. See Figure 6.

Figure 6
Microsoft Stream will ask for a title for the video. Then, the you can enter a description, if desired. Stream will also allow you to pick a permission level for the video. Click in the check box for "Allow everyone in your organization to see this video" or "Upload your original PowerPoint file along with this video" as optional choices when you publish. When you have made all of your selections, click the Publish button.
If you want additional information on Microsoft Stream, go to their website or click on the Stream Tile in your Office 365 apps.