Thinking about trying your hand at a newsletter? A newsletter can be a great tool to reach many contacts using email or social media. Printing a newsletter can also be useful to give out to an organization or within your own company.
Microsoft Publisher is a fantastic program that will help you set up and create a professional looking newsletter. You can even print the end product on your own printer or take it to a printer if you need special sizes of paper.
Get Started
To being creating your publication in Microsoft Publisher, launch the application. On the opening "Recent" page, you can choose from the "Featured" or from the "Built-in" Templates. Click on Built-in. See Figure 1.

Figure 1
You will see many categories of built-in templates. Choose the Newsletter category. See Figure 2.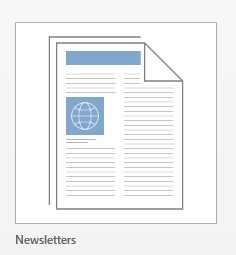 Figure 2
There are more newsletter options than you probably need. See Figure 3.

Figure 3
Customize your Color and Font Options
You can look through the options, but will want to narrow down your options first. On the right side of the screen is a pane. See Figure 4.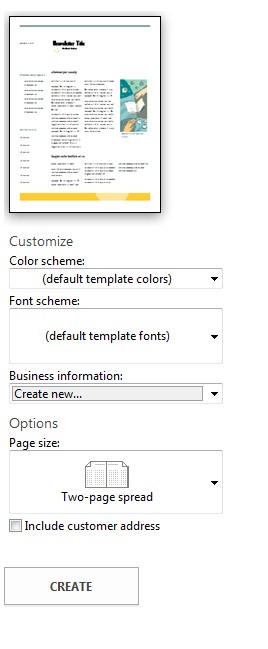 Figure 4
In the "Customize" section, choose from the drop-down list for Color Scheme. This will help you see the newsletter templates with the colors you prefer. For this example, I chose "Reef" as my color scheme. That gives me more of the brighter colors for my templates. Try out as many of the colors as you would like. You can further customize these once you have created the newsletter, too.
Next, you can customize your Font Scheme. Essentially, you are choosing a font family, since the font scheme includes fonts for many areas like headlines, text font, etc. I chose "Perspective" for my font this time.
Set up an Information Set
Next, click the down-arrow under "Business Information" to create a new business set. This is your address and other contact information that will be available within your newsletter. When you click on "Create New" from the drop-down list, a "Create New Business Information Set" dialog box will appear. See Figure 5.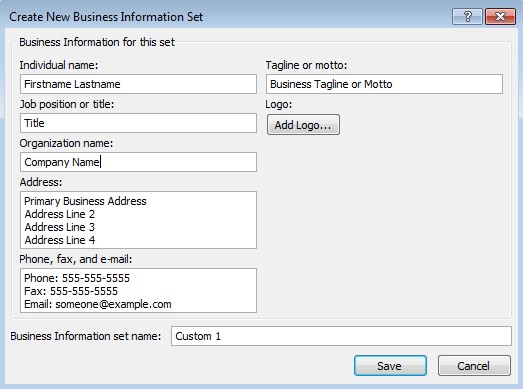 Figure 5
You can complete the information in each section that is appropriate for your newsletter. You can add a tagline or motto if you have one for your home or business use. You can even click the "Add Logo" button to add your graphic file. Remember to give your Business Information set a name in the last box. Then, click the Save button.
Choose Page Options
Under the "Options" section, you can select the page spread. This includes a one-page spread or two-page spread. If you want to print your newsletter, selecting the one-page spread would allow you to print front and back or print on the front only and staple together. For printing with a two-page spread, you would create a book style for your newsletter. In this case, you would need to print on a larger paper size, like tabloid, that would be 11 x 17 inches. You would fold the page in half to crease down the middle to have the pages like a book that face each other. If you do not have a special printer that will handle 11 x 17, you would need to take this to a quick print store.
If you plan on mailing your newsletter without placing it in an envelope, you can use the "Include Customer Address" option. Placing a check in that box will put the customer address on the newsletter. Otherwise, during a merge with the customer list, the customer address would not be on the newsletter itself. You would have to place the publication in an envelope to mail.
Choose Your Design and Create
After you have finished your customizing, you can select from the different newsletter templates. Do not worry if you are not completely sure. You can always change the design later. After you choose the template you would like, click the Create button in the bottom right of the pane. I chose the "Banded" Template" for this example. See Figure 6.
Figure 6
You are now ready to enter your text and finish your great looking newsletter! Enjoy!