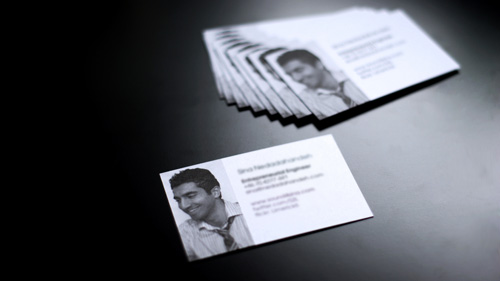 Are you in need of business cards? There are many places online that offer you the ability to create a discount card. The disadvantage of these web sites is that you cannot do much in the way of customizing. If you want to be able to make your own layout and text, you can design your card using Publisher. You can print the cards yourself or send them to a printer to get a professional look.
Choosing Your Card
In Publisher, you can choose from a variety of designs, or even create your own from scratch. When you open the Publisher application, click on the "Built-In" templates. This will be under "New" on the left and then two lines below the search box. You will see "Featured" and "Built-In". Once you have chosen "Built-In", you can click on the Business Cards category. See Figure 1.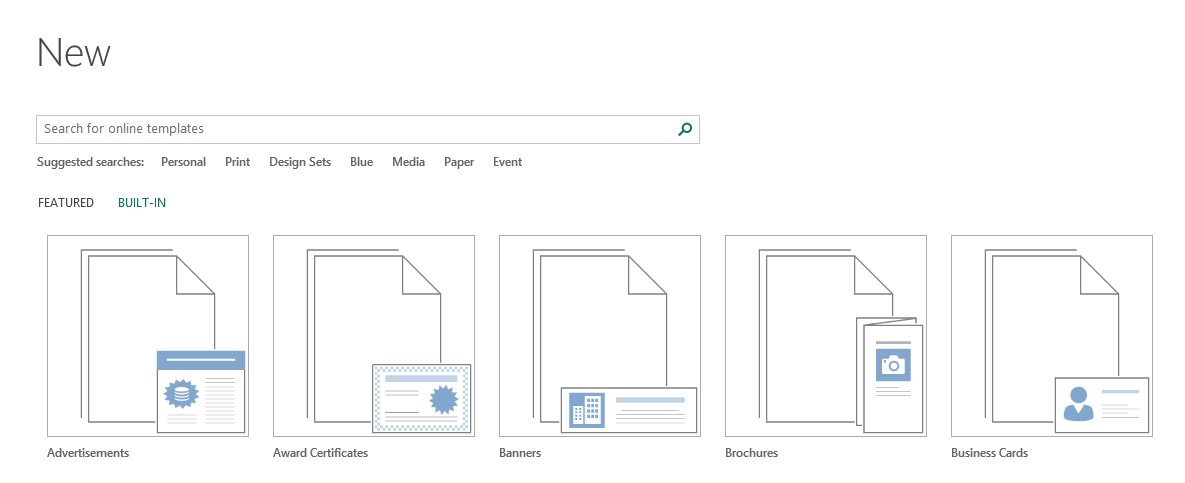 Figure 1
Scroll down in templates to the "Blank Sizes" section. See Figure 2.

Figure 2
Click on the "North American Size 3.5 x 2" card design. This design will allow you to format one card instead of having to duplicate and format 10 cards in a sheet as you would with the other designs.
Customizing the Card
After selecting the card size, you can customize the card in the right pane. See Figure 3.

Figure 3
Select the color scheme and font scheme that you would prefer. Under "Business Information", choose to "Create new". You will be taken to a "Create New Business Information Set" window where you will enter you contact information. You can even select a logo here. When you have finished, you can name the Business Information set in the bottom box on that window. Click the Save button. See Figure 4.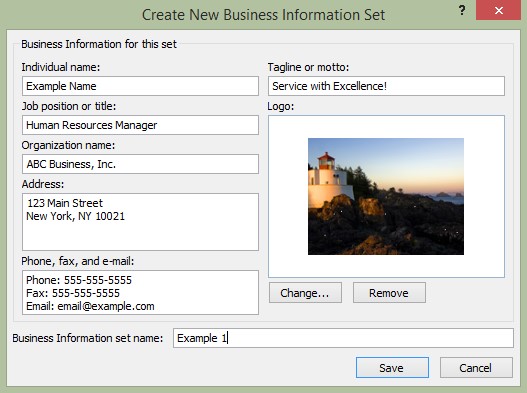 Figure 4
Creating the Card
You will now be ready to click "Create" to go to structure your card. You can design your card from scratch at this point by inserting a logo/picture and textboxes to add your text. If you prefer to use another design, click on the Page Design tab and then the "Change Template" button on the very left. See Figure 5.

Figure 5
You will see the available templates in the "Change Template" window. Choose the style you would like. For this example, I chose the "Brocade" template. See Figure 6.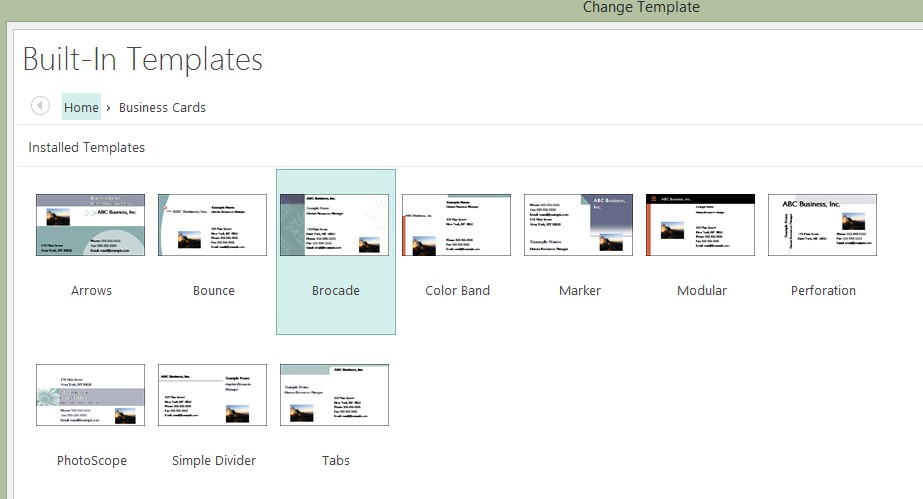 Figure 6
Adding a New Information Set
All of the contact data, email, tagline, and logo were entered automatically. This came from the Business Information set that I entered earlier. If you have more than one Business Information set that you use, you can add another one by going to the Insert tab and choosing the Business Information button. See Figure 7.

Figure 7
From the button's drop-down menu, choose "Edit Business Information". In the dialog box that appears, you will see your current information. You can click the "New" button to add another information set. Make sure to give your second business set a different name that your current one. This is also where you will go to edit any business information set if anything changes. See Figure 8.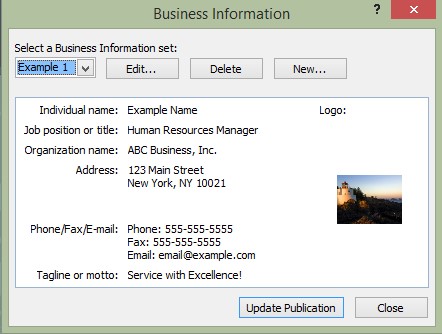 Figure 8
If you created another information set, choose the set you would like to use from the drop down list on the left and click to "Update Publication". Otherwise, you can click "Close". See Figure 9 for the card design after updating to the Brocade template.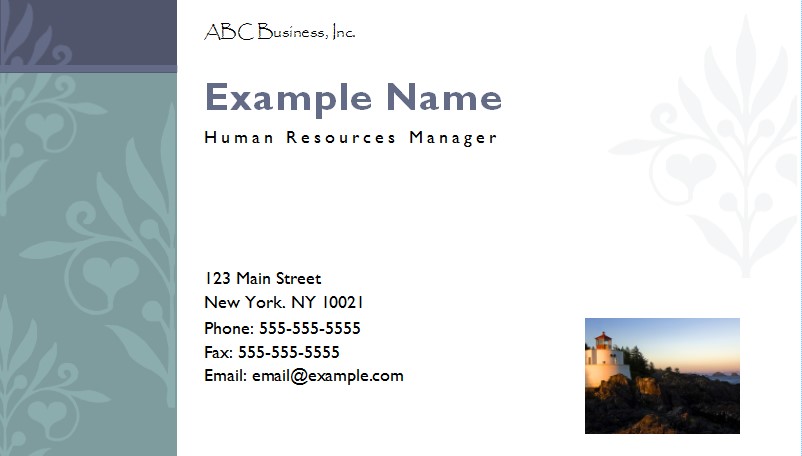 Figure 9
Printing the Cards
When you have completed your business card, you are ready to print. Even though you are only designing one card, when you print it will choose the standard 10 cards per page. See Figure 10 for print preview.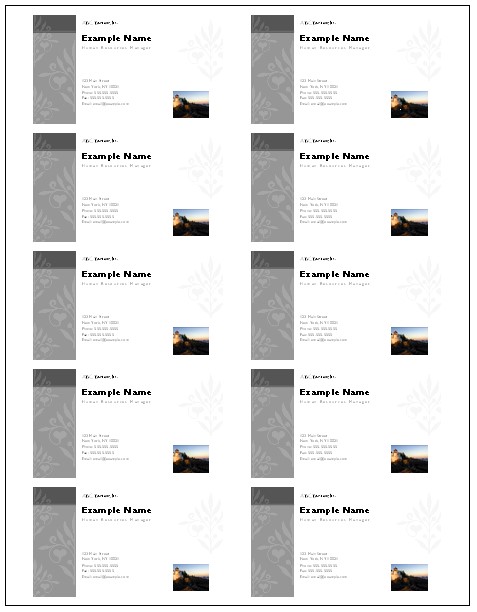 Figure 10
If you need to change to a different size card or adjust for another pre-cut label that you have purchased, start by clicking on the Page Design tab. Under the Size button, choose More Preset Page Sizes. You will go to "Select a Page Size" and can click once on the Business Cards folder. See Figure 11.

Figure 11
In the "Manufacturers", click once on the folder for your pre-cut labels. See Figure 12. Within each folder you can click on the number or name of the label.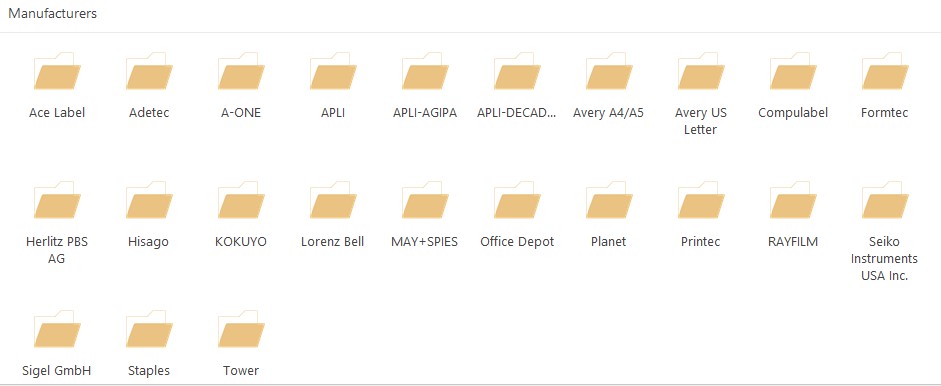 Figure 12
Enjoy using your new business cards!
Image credit: https://www.flickr.com/photos/limerick6/