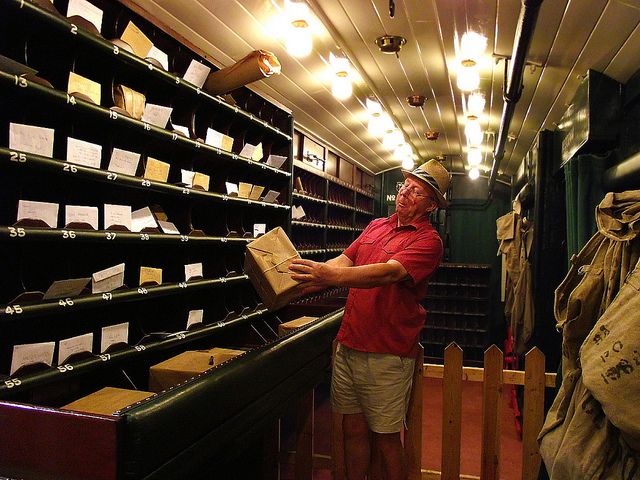 I cannot tell you how many times I have had a client need to pause our one-on-one training session to deal with email. We are usually sitting at their desk and are working with their files. A notification pops up with a new email message they received in their inbox.
I have heard:
"If I don't deal with this now, I will forget about it."
"My inbox is taking on a life of its own."
"I'm sorry, I have to answer this now or I'll lose this message in all of the others clogging my inbox."
"I have to leave this message in my inbox because it is a reminder for me."
Most of the people I train use Microsoft Outlook for email. Outlook has great tools that can be utilized to help tame an unruly inbox. However, I must give a disclaimer: You have to take some time to set up these up. And, you must spend a little time each day maintaining your messages.
Sort Using Column Headings
As you initially wade through your messages, adjusting your sorting can be helpful to find messages. As you get your inbox more cleaned out and organized, sorting can still be a useful tool.
In your standard Outlook inbox, you usually have three panes. You have the Folder pane on the left, the message list in the middle, and the reading pane on the right. In the center section (See Figure 1), you will have an option to "Search Current Mailbox". We will cover that in the next section of this post. You will also have a sort option, which is usually set to "By Date" as the default.

Figure 1
When you click the down arrow next to "By Date", you get choices such as: From, To, Size, Subject and many more. See Figure 2.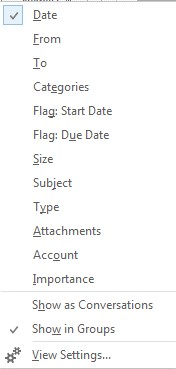 Figure 2
You might like to select "Show as Conversations" from the drop down list to help organize your inbox, too. This feature will group the replies with the original message. This helps to reduce the numbers of individual pieces of email in your inbox. And, it keeps the related items together in one thread.
At the top is also a place to choose "All" or "Unread" messages. Next to these choices is the button "Newest" with an arrow. You can adjust the order from most recent to oldest and vice versa.
Sort Using the View Tab
Another place to customize the sort order is on the View tab. See Figure 3.
Figure 3
To change the sort field, click on the field (Date, From, To, etc.) in the "Arrangement" gallery. Do a reverse sort, add columns, or even expand or collapse the group of messages in your inbox. The groups may vary depending on how you have chosen to sort. For example, if you are sorting by "Date", it will have groups called "Monday", "Last Week", etc. Each of these sections will have a bar heading. See Figure 4.

Figure 4
The "Message Preview" button is on the left side of the Arrangement group. This feature will change how many lines of the message you see in the center list. For each email, you will see the sender, the subject line and the date/time stamp. You can choose to show up to 3 lines of text from the body of the message.
On the view tab, to the right side are the buttons for changing the layout. You can customize the panes you have open including the Folder pane, Reading pane and To-Do Bar.
Advanced View Settings
On the View tab towards the very left is a "View Settings" button. When you click on it, the Advanced View Settings dialog box will open. (Note: You can also find this on the drop-down list above the message list, under "By Date". See Figure 1 and 2.) See Figure 5 below for the "Advanced View Settings" dialog box.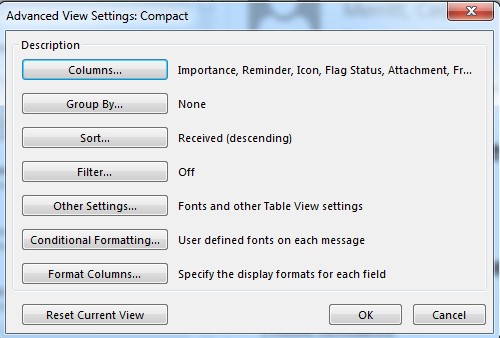 Figure 5
From this dialog box, one choice is to change how your messages are grouped. Click on the "Group By" button. See Figure 6. Items can be grouped by one or more of your fields.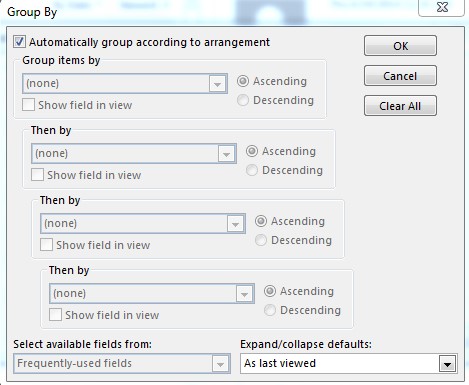 Figure 6
Filtering and Searching
Another choice from the Advance View Setting dialog box is "Filter". Filtering can help you look for a single message or multiple messages that meet a certain criteria. See Figures 7 and 8. You can search for messages according to sender, receiver, where you are the only person on the "To" line, and by certain keywords in the subject line.
Most of that type of searching can be done from the search box at the top of the list of email messages in the inbox. To do more advances searches that cannot be done from the search bar, see Figure 8. On the "More Choices" tab, you can look for messages according to category, flag, importance/priority, or even attachments of a certain size.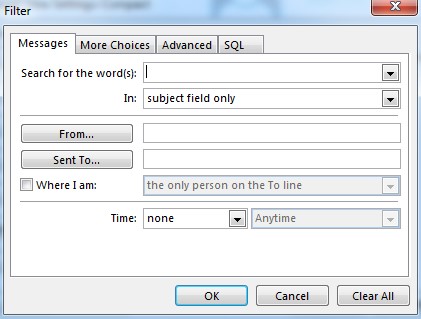 Figure 7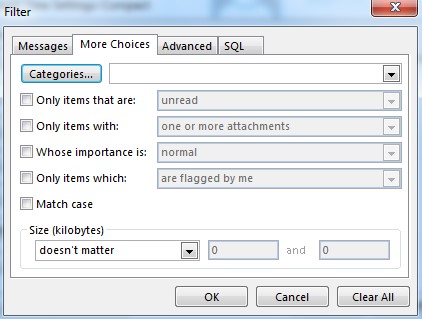 Figure 8
If you have basic searching to do, you can use the Search bar, which is located just above the message list in your inbox. You can type in a keyword or contact's name in the box. Additionally, you can choose to search the current mailbox, current folder, sub-folders, or all Outlook items. See Figure 9.

Figure 9
When you click in the search box, you will see a "Search" tab (Figure 10). The buttons on the Search tab ribbon can be used as an advanced search, just like the Advanced tab in the Filter dialog box. You can even access recent searches and additional search tools from this tab.

Figure 10
Conditional Formatting
One of the features that I really like about Outlook is Conditional Formatting. With Conditional Formatting, you can choose to have messages that meet certain standards to have a different formatting. The email that meet the set criteria can be customized with different font, color, size, style and effect. This is essentially setting a rule but is much easier to set up for the basic items in the list. See Figure 11.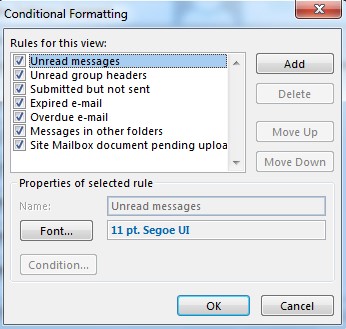 Figure 11
Hope you can use these tips right away!
Image credit: https://www.flickr.com/photos/calotype46/