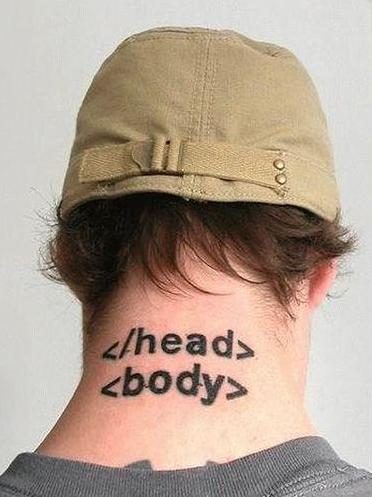 Are you familiar with inking in PowerPoint? If you need to make annotations on a slide in a presentation, you need this feature. The tool is located on Review tab in PowerPoint (see Figure 1) and can help out as you prepare a presentation. I've even used it to create shapes and designs when I create a PowerPoint deck.

Figure 1
Get Started Inking
To get access to the inking tool, just click on the Review tab and click the Start Inking button. A new tab will appear called Ink Tools. See the ribbon in Figure 2.

Figure 2
The default tool is the pen, but you can quickly switch to the highlighter. Both buttons are located in the Write group of buttons. Additionally, the ribbon includes colors, line thickness, and selection options.
Customize the Pen or Highlighter
You can adjust the color and thickness of the tool with the buttons in the Pens group on the ribbon. There are several styles available in the Pens gallery. Click the More button and the whole list of built-in styles are shown. See Figure 3.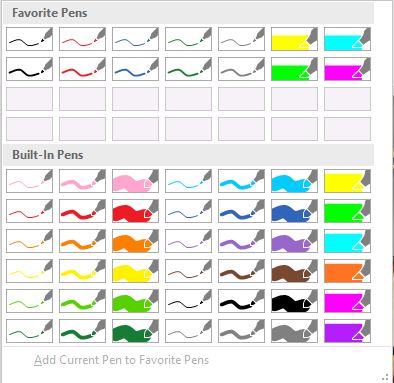 Figure 3
If you find a style(s) that you prefer, you can add to the Favorite Pens list. Just click Add Current Pen to Favorite Pens, which is available on the drop-down menu just below the Built-In Pens section.
To the right of the Pens Gallery, you can customize even further using the Color button (Figure 4).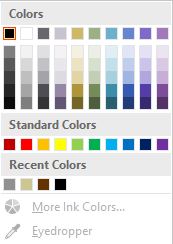 Figure 4
The Eyedropper tool on the Colors drop-down menu can be used to pick up a color from your presentation slide so that it will be an exact match. Click on More Ink Colors… to pick from any color that you'd like.
The Thickness button (Figure 5) can be used to adjust the line to any thickness. You can make your annotations look like a pen or even a thicker type marker.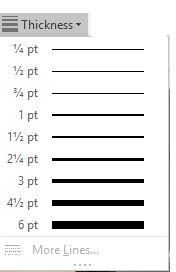 Figure 5
Convert to Shapes
When I draw shapes, it looks like a two-year old's drawings. They really do not look like anything artistic at all. But, when I click on the Convert to Shapes button, PowerPoint automatically converts my attempts at shapes to actual shapes. See Figure 6. The top shape is my attempt at a simple square without Convert to Shapes enabled. The bottom square is what it looked like after I turned on the Convert to Shapes feature.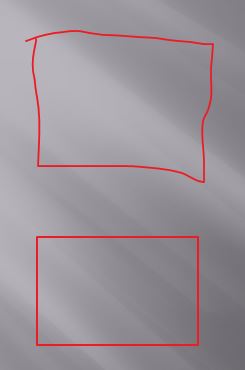 Figure 6
Select Objects and Erasing
To select an object, there are two buttons available: Lasso Select and Select Objects. The Lasso Select tool lets you drag around an object in a free-form way to be able to get all of the item. This one is best to use when the object has an unusual shape or is made up of multiple shapes. I use this most often if I need to select a person or group of items. The Select Objects button lets you click on individual items to use.
It is easy to remove your ink annotations if you decide you don't want them anymore. You can click the bottom half of the eraser button to choose from Stroke Eraser, Small Eraser or Medium Eraser. See Figure 7.

Figure 7
Give the inking tool a try in PowerPoint. I think you will use it more than you realize!
Image credit: https://www.flickr.com/photos/leader_maximo/