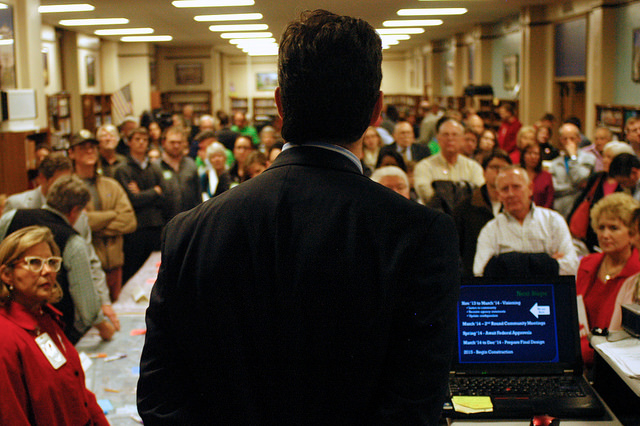 About a month ago, I sat in on a presentation given by a good friend. She is a whiz at PowerPoint and seems to really "get" what it takes to reach an audience effectively. I am always impressed with her visual slideshows that are simple yet interesting. The slides add to her presentation without taking the focus off of her as the presenter. I asked if I could share some of her tips in a blog post and she agreed.
Keep it Simple
This is my friend's greatest strength with PowerPoint. She does not just fill the screen with "stuff". The presentations that have open space and are not cluttered seem to help us focus better and do not take the attention from the presenter. Even adding logos and images on some slides may be too much.
Another way to keep a presentation simple is to limit how much text and bullets are on each slide. If you can combine and use fewer words, then what is on the screen will be noticed more fully. Never include full sentences unless you are quoting someone. If you need the audience to have more detailed data and information, you can always have a handout to give each person after the presentation.
Avoid Extra Bells and Whistles
Unless you are presenting to a group of small children, avoid excess animations, transitions, and sounds. If you really want to use something, then try very subtle transitions. If you need animation on your slide, you can try one of the ones like you might see on television, like a wipe animation, that look professional.
Sounds tend to be very distracting in a presentation. I have seen a presentation that used a person speaking a quote that was effective. Most of the pre-packaged PowerPoint sounds should not be used. My friend also mentioned that audio systems can be problematic if you are presenting in an unfamiliar venue.
Use Professional Pictures, Video, Fonts and Colors
Another advantage my friend has in her presentations is that she is a professional photographer. Her graphics and photos are high quality. She recommends to not use clip art/cartoonish graphics. Most people are turned off when they see cheesy images in a presentation. There are great pictures available now for free and can be used if credit is given to the owner. If you make presentations frequently, it might be worth it to invest in a stock image service.
Videos can definitely add great depth and can draw the audience's attention if the video quality is good. Avoid grainy and poorly edited audiovisual items. You can do some basic video editing in PowerPoint now, so crop off the front or back end, to keep the video focused and not too long.
Fonts and colors are crucial to your presentation. My friend says that using darker backgrounds with bright colored font or shapes (like bright red/orange/royal blue) can actually hurt your eyes to view. Background colors should be subtle and not too busy for a professional presentation. Some fonts can be very hard to read, even when made larger for viewing on the screen. My friend suggests sticking to one font, if possible, for the whole presentation. If you need to change it up a little or add enhancements, you can bold the font. The best font for viewing on the screen will be a San-Serif, which is more basic and easier to read, especially from the back of a room. Always check what your presentation looks like from the front, back and sides of a room to make sure it is easy to view.
Final Note on Presentations
Probably the second best thing that my friend does in her presentation is establish a logical flow. She spends quite a bit of time breaking down the information into digestible pieces. Then, she makes sure that the presentation does not hop around but follows a common-sense movement from topic to topic and slide to slide. She also suggests putting extra information that the whole audience might not be interested in or that may be outside of the topic of your presentation on extra slides. She hides them and only goes to those slides if she is asked questions about that information.
My friend says to always expect at least one thing to go wrong. When that something goes wrong, just accept it and move on with the rest of the presentation as soon as possible. She recommends practice, practice, and practice again to everyone that she advises on presentations. Nothing, not even a perfect PowerPoint slideshow, can replace a well-rehearsed presenter.