We all know the holidays are pretty much the busiest time of the year for the holiday shopper in your family. Any planning ahead that can be done is bound to help you sanity. But, to actually have time to create your holiday shopping list in a great looking Excel file, is a sugar-plum dream for most of us.
Thankfully, the folks at fppt.com have assembled a great template that will help you with all of your gift giving this year. Click here to download a copy of the Excel template. The file has festive colors and holiday lights image. At the top of each worksheet are buttons to link you to the other sheets to help you navigate quickly.
List Entry worksheet
The first sheet in the workbook is for your list entry. Input names, type of gift, gift, cost. It also includes a columns for purchase, delivery and wrapping status. See Figure 1.

  Figure 1
Holiday List worksheet
The second sheet, titled Holiday List, is a Pivot-table based on the data from the List Entry worksheet. It gives you a breakdown of expenses and can be filtered by gift recipient, delivery or wrapping status, category, etc. All you have to do is select which filter to apply. See Figure 2.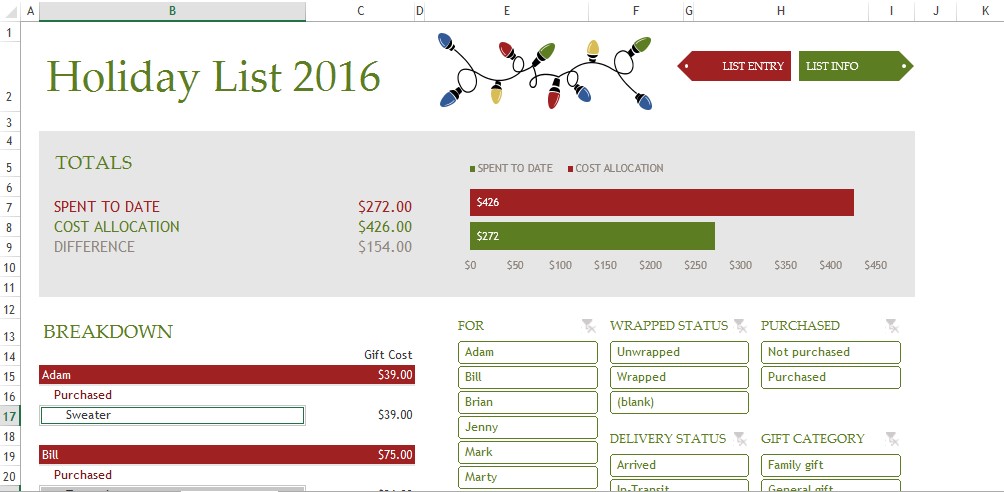 Figure 2
List Info worksheet
The third sheet is titled List Info. This contains the budget amount, gift recipients, and gift categories. You can adjust and add to these, so that they can fit your exact needs. See Figure 3.

Figure 3
Start now and get your holiday shopping list set up so that you can be ready to grab the just right item when it is on sale. Never go to the store again (or shop online) and figure out that you have purchased an extra item for someone or that you have gone over-budget. Happy Holidays!